Device-to-Device (D2D) Communication is the method of creating direct interaction between the 5G enabled devices. In a 5G mobile network, the deployed devices are coupled together through dedicated connections for fast data sharing from one device to another.
From this page, you can procure awareness on recent research challenges of Device to Device communication in 5G network field!!!
Due to the reliability of D2D communication, it is transformed into an encouraging technique in current evolving mobile network technologies (i.e., 5G). As a matter of fact, the direct mobile devices will establish the interaction without the use of base stations (BS) / key network components. In specific, the data will not be transmitted through the access points in fixed infrastructure. Further, we have given you the two primary classifications of D2D communication: out-band and in-band as follows,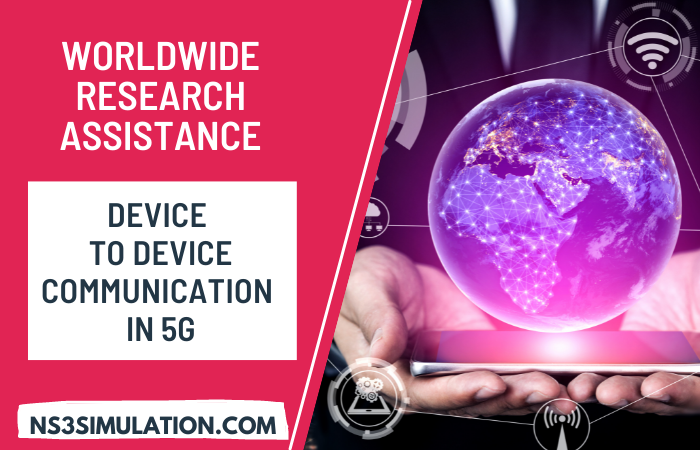 D2D Communication Types
Outband D2D

Autonomous and Controlled

Inband D2D
We believe that you are clear about what exactly D2D communication in cellular technologies. We can now see the important points that you need to focus on while beginning the D2D Communication 5G projects. Our resource team has collected up-to-date information on the following to fulfil your needs.
Newly Emerged Models, Technologies and Frameworks
Current and Advanced Research Areas in D2D Networks
Different Implementation Scenarios and Respective Results
What is D2D communication in 5G?
From the name Direct D2D networks itself; we can understand that the users/devices are directly communicated. In this, it eliminated the traffic because of their infrastructure-less environment and turned out to be the key factor in increasing the efficiency of the system performance and supporting future enabling cellular technologies. Beyond this, we have more important research areas of Device to Device Communication in 5G.
What does the D2D features used in 5G?
Usually, D2D communication Projects doesn't matter the employment of infrastructure / infrastructure-less environs. It mainly focuses on deploying large-scale devices with low latency and high data rate features. Further, it is also capable of coping with 5G network technical issues in industrial sectors.
D2D Intensive Communication?
And, this device-intensive communication is configured by the nearby devices themselves to form the network. Moreover, it becomes the kernel of the current cellular network in order to improve the below characteristics.
High throughput
High spectral efficiency
Low delay
Improved system volume
Next, we can see the reasons behind the 5G integration in D2D communication. Basically, 5G has many advantages in terms of high throughput, low delay, and high data rate. Similarly, D2D has the special feature of direct device communication without a base station. When these technologies are combined together, it will improve cellular communication by means of resource efficiency, controlled network, reliability, scalability, and more.
Why 5G in D2D Communication?
Enhanced Performance

Minimum end-to-end latency

Standardization and Management
Scalability and Trustworthiness
Efficient Resource Control

Close-fitting spectrum utilization
How does 5G works in D2D communication?
In the forthcoming 5G system, direct D2D interaction is recognized as network-controlled technology to succeed in limited distance communication (i.e., short distance). Here, it stably balances the local traffic from global traffic. Through this, it will manage the central network traffic and eliminate the heavy data load problem and core network.
In recent times, D2D is fully associated with the 5G cellular technologies for providing better network performance for many real-time applications. For instance: live video broadcasting. Since it uses D2D connections in the place of cellular connections, further, it balances the convention model traffic issue to achieve minimal processing complexity. As a result, it brings the new dimension of research by means of the device–intensive communication.
Now, let's see the different research perspectives of Device to Device Communication in 5G network. Though 5G gives more benefits while integrating with D2D communication, it has few technical issues in real implementation. When you find a suitable solution for those issues, then it carries you to the next generation of technologies. Here, we have highlighted the best result-making techniques of recent research issues which have extended scope in nearing generation.
Latest Schemes on 5G D2D Communication
MAC and Diffie-Hellman Key Exchange (DHKE)

Issue Solution – Solve the single-point failure (central system) by key management and mutual verification among 2 LTE devices

Response-assisted authentication, Acoustic channel and waves

Issue Solution – Overcome the device identity secrecy by improving deice discovery and bidirectional verification

Zero-knowledge proof, identity-assisted k-anonymity secret handshake and linear / private key encryption

Issue Solution – Reduce both processing and computational rate by network covered / absent mutual verification and key agreement

Bio-inspired discovery and Beacon Transmission Pattern

Issue Solution – Attain key management and mutual verification by distributed synchronization in device discovery

Two-party computation approach and homomorphic encryption

Issue Solution – Achieve key management and mutual verification by bidirectional trust cooperation

Data-theoretic privacy capacity

Issue Solution – Provide secure solution for constrained application by launching D2D interaction over eavesdropping attack

Pseudonym control, identity-assisted signature and HMAC

Issue Solution – Minimize both processing and computational rate by mutual verification and key agreement

Certificate-less Generalized Signcryption (CLGSC)

Issue Solution – Achieve key management and mutual verification by secure D2D communication among medical doctor and WBAN ( wireless body area network simulation) user in healthcare model

S-Procedure and Bernstein-type inequality

Issue Solution – Provide secure solution for constrained application by MISO privacy channel in multi-D2D interactions.
Performance Metrics for D2D Communication in 5G
Next, we can see the important D2D performance measuring parameters. These parameters are used to compute the efficiency of the network. In order to achieve better performance/efficiency, one can improve the whole network throughput by optimizing resource utilization. And, the other important parameters are given as follows:
Privacy Rate
Capacity
Throughput
Delay
Resource Efficiency (Spectrum and Energy)

For example, future generation technologies look forward to high data rate applications by means of low latency factor. In fact, many applications are handling dynamic large-scale data for their own needs. So, ultimately the computations involved in the applications take more time. This increases the need for low delay and high data rate characterized applications/services. Here, we have given you some of the real-time use-cases.
Non-real-time – It is specifically meant for low delay tolerable services. And also, it should not dependent on time based communication. For instance: email
Mild real-time – It is specifically meant for low delay tolerable services / applications. For instances: video sharing, traffic signal management, etc.
Intense real-time – It is specifically meant for delay constraining applications. For instances: air traffic control, healthcare, gaming, etc.
In the above section, you have already seen some research issues that have high scope in future research. To the continuation, here we have given few more novel research areas that have the connectivity with future 5G technologies. To know those areas, you can connect with us
Future Research Directions of Device to Device Communication in 5G
Resource Distribution

In-depth analysis of D2D communication which depends on relays

Design the approach that improve the traffic control and reduce transfers between base stations (BS)

Overcome the issue of High Peak to Average Power Ratio (PAPR)

In SC-FDMA, re-claim the downlink and uplink radio resources to improve the Fractional Frequency Reuse (FFR) for resource distribution. Further, it can improve the link selection in multiple cells infrastructure.

Spectrum allocation between multiple MNO's requires more concern for imminent study

Enhancing the resource distribution in terms of device position / locality with minor deviations

Dynamic D2D Network Construction

In dynamic D2D environs, the nodes in the network will randomly moves, so that network topology will dynamically change. As a result, it may faces lack of reliable connection among nodes due to high mobility. Therefore, the network is needed to be designed with continuous long-term reliable communication links.

Similarly, enhance the QoS and throughput features for D2D heterogeneous networks

Other requirements of D2D networks are listed below:

Confidential D2D interaction (user / device identity verification, signal controlling, etc.)

Power restricted user equipment (enhance the UE design)

Improved mobility model (improve the channel model and discover the UEs)

Cooperative infrastructures

Require to develop more advanced radio interface approaches for LTE-A Pro applications

In non-saturation scenarios, it is essential to develop efficient analytical model. And also, require to analyze the cellular connection effect on D2D interaction

Have need of incorporating new techniques with the current 3GPP protocols

Enhancing the efficiency for multi-hop interaction and synchronization of the interference cells

Selection of Mode

Require distributed techniques for D2D pair which recycle the same frequency band (channel)
To sum up, we assure you that we will surely give complete support in any of your required research phases. Further, you are looking for an obstacle-free research path, then it is preferable to hold your hands with us for Device to Device Communication in 5G Projects from the beginning itself. Anyway, no matters where you join us, our ultimate goal is to give fruitful results within the stipulated time.