The excellence of network service achieved by users is known as network performance. Mostly, the network performance is measured by the study of metrics and statistics. Learn more facts about network performance metrics examples in this space. For an instance, the transmission rate is obtained due to the single bandwidth and the noise channel. Below, we have listed down some bandwidth,
Bandwidth of Hosting
Network Bandwidth speed
Multimedia Bandwidth
Internet Bandwidth
Network Bandwidth Capacity
Asymptotic Bandwidth
Network Quality
           Network performance is measured by the quality of the network connection. It helps to verify the network connection is fast or it is constant, etc. And the performance of the network is monitored by the following devices using network simulator 3
Switches
Wifi APs
Physical Enabled Devices
Routers
Virtual Enabled Devices
Firewalls
Hereby, we have listed down some network performance metrics examples with their function.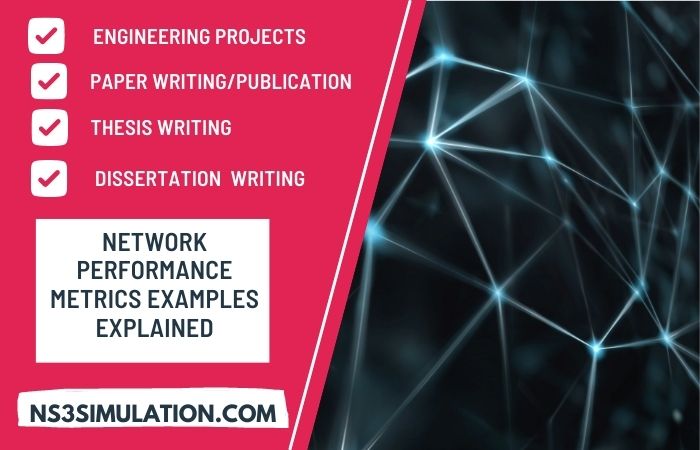 What are the network performance metrics examples?
Data Loss and Network Errors

During the transmission and delivery, the packet is vanished or dropped

Network Bandwidth or Capacity

Obtainable data transmission

Network Delay, Latency, and Jittering

The data transmission might be slow due to some network issues

Network Throughput

In the allocated time, the data which is transmitted successfully through the network
Measuring Performance
           Network performance is measurable. With the help of network metrics, we can measure the performance between good and bad. In addition, there are some methods to develop the network performance. Our experts have listed down seven significant ways for your ease understanding network projects.
How to improve the network performance?
Reduce Data and Network Traffic
Communicate Using Proper Network
Certifying the Quality of Service with Proof
Suitable System Reconfiguration
Specified Network Entities are Provided
Eradicating the Performance Blockages
Paying Attention to the Problematic Metrics (QoS, QoE, etc.)
The technique of diagnosing, service quality, measuring, and optimizing the network as per the experience of the network users is called network performance monitoring. For example, QoE determines to enhance the user's experience by the quality of the network. Along with this, there are three significant factors such as human, system, and contextual.
QoE based network performance metrics
System Influence Factors

Network
Delay
Bandwidth
Jitter
Media 
Sample Rate
Encoding
Resolution
Device
Display
Size
Screen Resolution
Content

Context Influence Factors

Task Context
Multitasking
Task Type
Interruptions
Physical Context
Space
Location
Technical and Information Context
Relationship Among the Systems
Temporal Context
Frequency Usage
Time of Day
Physical Context
Space
Location

Human Influence Factors

High-Level Processing
Expectations
Personality Traits
Economic Background
Low-Level Processing
Gender
Age
Visual and Auditory Acuity
GRAB KNOWLEDGE FROM US…..
TO SHINE IN YOUR RESEARCH CAREER……